LET US BUILD
YOU SOMETHING
AMAZING.
CONSTRUCTION AND RENOVATION SPECIALISTS
In Italian brado means wild, or untamed. For us, Brado starts our story of doing things a little different from others.
We're not necessarily wild, but we are a young company that is working to break away from the norm and create our own path in the construction world. Based in Prince George, British Columbia, Brado Contracting can handle light commercial construction or renovation, as well as residential construction or renovations.
We work to bring your vision to reality, making suggestions and guiding your projects to a successful completion. We're here to build you something you'll love, something that will last and something we will both be proud of.
Have a project in mind?
Foundation
Brado is built on these five guiding principles:
Quality: Our focus is to build something that will last. We're not interested in cutting corners, or just slapping something up for the time being. We want you to be proud of what we build and we want you to love your experience of working with us.
Professional: We are a company that gives full respect to the environments we work in. Whether it's a commercial setting, or someone's home, we keep our sites clean and tidy.
Creativity: Utilizing creative approaches, providing you with either a better product, or something that is a little unique.
Safety: Regardless of the project or the scope of the job, everyone at Brado takes a 'safety-first' approach, ensuring we all go home at the end of each and every day.
Transparency: There is a lot that happens, even with a basic job. We pride ourselves on being very clear through every stage of your project, providing updates and budget reports
when necessary.
DELIVERING REMARKABLE CONSTRUCTION EXPERIENCES
Brado Contracting excels at residential and light commercial construction in and around the Prince George area. We deliver successful construction projects from full renovations or tenant improvements to smaller requests. We build lasting relationships with our clients, colleagues, subtrades, and employees.
---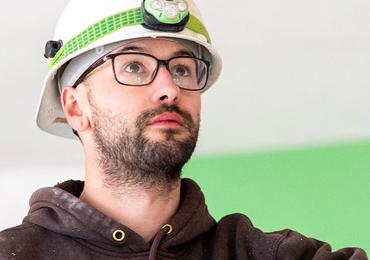 LEVI DORAN
Owner / Superintendent
Levi has a strong background in residential and commercial construction. His experience comes from working with one of northern BC's larger construction companies over the past decade, working and leading on various projects around the Prince George community and in our region.
Latest Project Pics
We're always up to something. From renovating homes to commercial buildings, from decks to the occasional fence. Brado is here to help you bring your ideas to life.